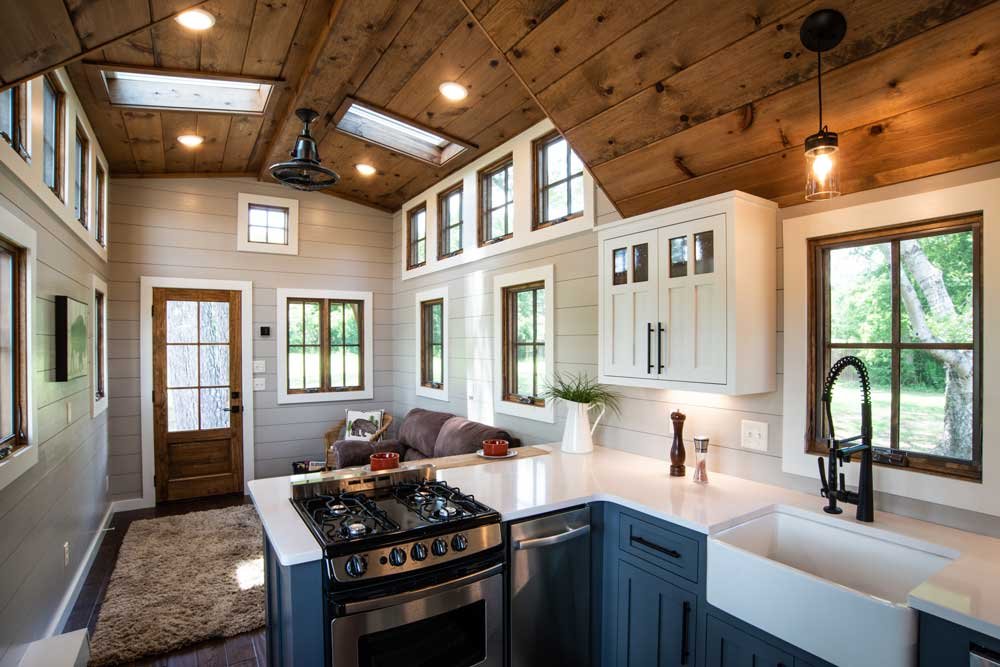 Tiny Home Builders in Santa Clarita
Are you looking for the best houses in Santa Clarita? Do you need a place to stay when you come to visit? Santa Clarita is a suitable environment for many reasons. It is one of the best places you can love and encourages business growth and investment opportunities. If you're looking to visit the area and need a place to stay, a tiny home on wheels is a viable option.
These tiny houses in Santa Clarita are gorgeous.
Some perks of living a Tiny lifestyle are relaxation and comfort coupled with the serenity the environment brings. A tiny house on wheels will help you enjoy Santa Clarita better. Buy a tiny house on wheels from us today.
While you are in Santa Clarita, don't miss the opportunity to visit Magic Mountain's best ride, the Tatsu. It's so graceful, long, and incredible exhilarating experience. You also don't want to miss out on X2, Twisted Colossus, and Full Throttle. You will have an incredible experience you will never forget.
As expert tiny home builders, we aim to satisfy our customers and provide for all their home needs. Customers know us as the most reliable, competent, and respectable builders in the tiny home industry. We have core values that help us deliver the best outcomes. They include:
Integrity

Quality materials for construction

Honesty

Outstanding project management
Tiny House or Park Model Home Builders in California
Tiny Home Builders California offers over 6 models of modern farmhouse-style tiny homes on wheels. Our tiny home on Wheels typically have unique design elements like Lofts, fireplaces, and apartment-sized appliances.

ROOMETTE
The ROOMETTE is a winsome trailer that radiates tranquillity and offers a peaceful that also looks very beautiful home to its residents.

GREENFEST
This classically inspired farmhouse styled tiny home packs a big punch into a small space with large black windows and a modern interior design.

HEAVEN
A stunning rustic, yet refined tiny house on wheels with two spacious lofts, a modern kitchen, and a large bathroom suite.

SUMMER JOY
The SUMMER JOY is a Modern tiny house that tends to take your breath away with its fine design, beautiful appearance and a modish theme.

SEASHORE
An affordable tiny house with the basic necessities and a lot of windows throughout. Full kitchen and a full bath make it ideal for all lifestyles.

MAGNOLIA
The MAGNOLIA is a dreamy tiny home, with a private living room, a main floor bedroom with space to walk around the bed, and a functional kitchen with all of the extras.
Tiny Home Builders Santa Clarita
You may wonder, what is so exquisite about Santa Clarita if you love animals?
The best-kept secret in Santa Clarita lies within The Gibbon Conservation Center. It is home to more than 40 highly endangered gibbon apes (small apes). This peaceful location is where gibbons live in family groups, raise their infants, and socialize as they would in the wild.
They have guided tours starting at 10:00 a.m. on weekends when they open to the public between 9:30 a.m. and noon. This would be a wonderful opportunity for you to take live photos or videos and a chance to watch gibbons swing from branch to branch and hear them sing their melodic songs. If you want to buy souvenirs, there is a gift shop on site.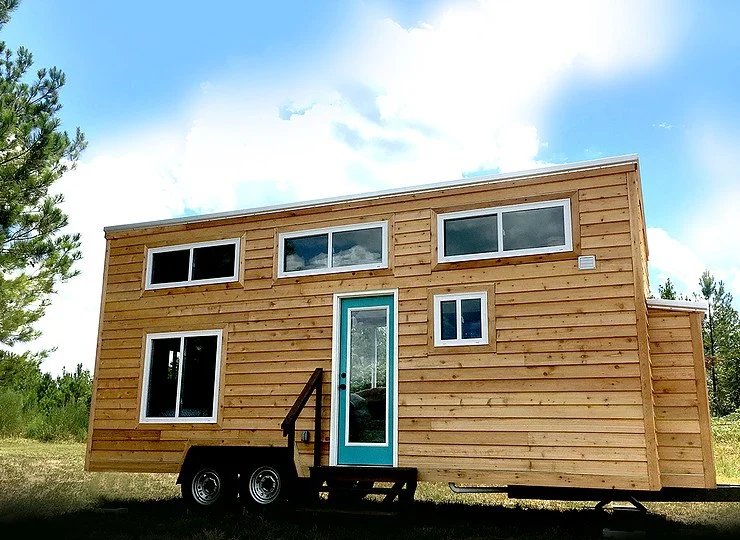 Why should you buy a tiny house there? Santa Clarita is one of the best locations where you can enjoy living in a tiny house on wheels. 
Santa Clarita has magnificent and expansive views that holiday visitors and people who go on vacation love. The opportunities it provides for growth and investment also encourage businessmen and women to troop in daily. 
For residential or investment purposes, you can buy a tiny home on wheels in Santa Clarita. You can build tiny houses on wheels and rent them as Airbnb out to visitors who need a place to stay in the area. If you don't want to invest and need a small house to live in, it's also an ideal option. 
As professional tiny home builders, our Santa Clarita tiny home builder location has many stylish designs you'll love. They include features like:
Durable construction

Elegant and carefully crafted wood finishes

Latest energy-saving products
We offer the best rates and warranties on tiny homes on wheels. You'll appreciate our designs, and if you already have a custom tiny house in mind, we'll craft it just the way you want it. Your tiny house should be exactly how you envisage it. Let's bring your dream home to reality at TinyHomeBuildersCalifornia.com.
Welcome to Tiny Home Builders Santa Clarita
Have you been thinking of owning a tiny home on wheels in Santa Clarita? Let us craft one for you with your dream unique features. You deserve to live in a comfortable home after battling the stress from family, work, and everyday life. 
At Tiny House Builders Santa Clarita, we specialize in crafting and constructing the best tiny homes for people who want to live in small houses. Small does not have to equal discomfort. We understand it, so we ensure that your home has enough space and you don't feel cramped living in it. Our wide range of designs and styles will meet your specific and individual lifestyle requirements.
Santa Clarita and its suburbs provide our clients with a wide range of tiny home on-wheel designs at affordable prices. We will ensure to customize your dream home in such a way that it meets your lifestyle needs. Buying a tiny house on wheels may be one of the best life decisions you can ever make. Let Tiny House Builders Santa Clarita make that decision a worthy one. A tiny home on wheels will help you save money and time, and you'll get to live a life full of simplicity, minimalism, pleasure, and adventure.
At Tiny Home Builders, we go beyond crafting houses. We offer our customers real lifestyle opportunities and specific solutions tailored to meet their lifestyle needs. We design and build several tiny home models with your comfort in mind. Santa Clarita has several lots and spaces, and you don't have to worry about zoning laws and building codes when you have an existing driveway where you can park on the property. If you lack a place to put your tiny home, we can help.
Tiny houses are one of the most fantastic housing solutions. You don't have to pay rent or mortgage loans. Our Santa Clarita tiny houses are simple, elegant, one-bedroom for two people. We design them with all the essentials you need to live a life of comfort and style. 
If you want to live in a big city but don't want to live in a conventional house, and you want to save money on housing, then tiny living is your answer. Get closer to nature and the environment. Consider living in a tiny home on wheels in Santa Clarita.
Tiny Home On Wheels, Unique in Every Way
Do you know why the tiny home on wheels movement has become a growing one in the United States? Do you wonder why you should live in a tiny house? The answer is simple! Tiny homes are the housing solutions today and in the future. We tailor them to meet specific lifestyles so they make sense. 
The idea of living simpler lives appeals to many people. Tiny homes on wheels provide the minimalism you're looking for to live mortgage-free. Tiny homes on wheels are also simpler to care for and take up less space than traditional houses. 
If you live with a partner, a tiny home allows you to bond better with them. You can do fun activities together instead of sitting alone in separate rooms.
When you live in a tiny home on wheels, you can quickly transport your house whenever and wherever you want. You would also have more accessibility to your personal belongings and less time cleaning your house. Your energy bills become lower, and your carbon footprint is less. Living in a tiny house is a fantastic way to live your best life and save money. You can go on adventures, on holidays, and travel in your own house. 
The best part? You don't have to pay for your home for many years, and your tiny home can last decades!
Site Due-Diligence / Feasibility Study
Exterior and Interior Renderings
Interactive Panoramic VR Renderings
WE ALSO OFFER THE FOLLOWING SERVICES FOR FREE:
Q and A Phone Session

Email Inquiry Regarding Architectural Design and Turnkey Construction
You can also read: Tiny Home Builders Glendale